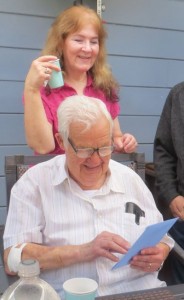 My father died yesterday morning. He left this world the way he lived his life, with dignity, and without fuss. No drama — that was Dad. At 91, his life force had been ramping down in recent years and he often spent his days sleeping in his favorite chair under the watchful gaze of my mother, his bride of 69 years. Yesterday, as the family gathered around her at the home Mom and Dad shared for some 50 years, we agreed that Dad's timing was right. He was tired.
And yet, nothing about this is easy. So much ink has been spilled through the millennia on grief and loss and death and bereavement that there is scarcely much to be said that hasn't already been set to poem, book, song, theatrical piece, film, opera and blog. Yet we know that every loss is unique. There was no one on this Earth, ever, exactly like my father and his loss leaves an enormous void. Also, he and my mother both have — had — an eternal quality about them that prompted my long-time friend Bonita to weep into the phone to me yesterday on hearing the news, "I just sort of thought your parents would live forever." We all did. And even a 91-year life span goes by too swiftly.
It feels terribly wrong to sum up Dad's life in a series of words and phrases because he was so much more than devoted and deeply loved husband, father, grandfather and great-grandfather; Depression-era survivor; Pearl Harbor veteran; life member of the VFW; career Bank of America employee; and serial hobbyist whose passions hopscotched him from trout-fishing to raising pigeons to playing pinochle to building model airplanes to archery to bridge to Ham radio and probably many more I'm forgetting. Those are only roles and reflections of his joy of learning; they don't reveal his steel-hard integrity, his commitment to a moral and ethical life, his unwavering determination to always, always do the right thing — by his country, his community, his wife, and his three children. There was much more of Atticus Finch in my Dad than he ever would have acknowledged, because such comparisons would have flown in the face of his insistence on simplicity. Dad didn't like complication or complexity.
With that in mind, he probably wouldn't like knowing about the turmoil of emotions his loss has caused. Though death is inevitable, it always comes too soon. Even at 91 years old — too soon. I got to have my Dad for fully two-thirds of his long life and yet it all feels like a slideshow set on high speed. He was my anchor; I am unmoored. We all are, and no one more than his grieving life partner who in a final sigh transitioned from wife to next-of-kin. Nevertheless, she and all of us proceed now to Take Care of Things, which include writing an obituary we never wanted to read and planning a memorial service we hoped never would be necessary.
I know from my sister's memorial just over two years ago — when I couldn't even look at her "life celebration" table without falling apart — that I'm not the family member most likely to deliver the eulogy after such unthinkable loss. Dad's memorial is set for Saturday and if I could speak then, I'd want to talk about all the gifts my father gave me in the form of a good upbringing, education, countless joyful memories including camping trips to Hat Creek, life lessons, Dad wisdom, his caring concern to ensure I was okay (always, always asking if I had bridge fare to cross the Carquinez when I left their house after a visit, even well into my fifth decade of life), and too many more to list. But my father's greatest gift to me was last year, when we were talking on the phone and he told me, quite out of the blue, "I know how much you love me." Until my father handed me that peace of mind, I'd never realized how much worry and stress go into wondering how much more we need to do and be and say to prove the depth of our devotion to the ones we cherish most. My Dad, the practical one, who had all of his "pre-need" arrangements taken care of well in advance, was letting me know that I didn't need to worry, that I didn't need to be more than I was. He knew the day would come when I would need to cling to that knowledge as fiercely as I'd clung to his hand as a little girl.
That day was yesterday. Thank you, Dad. For all you were, for all you left us, and for every single moment, thank you.