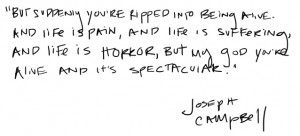 I recently met a young woman who is one of those people born to be in the healing arts. Her very presence is a blessing. As is often the case with bright-light individuals, she is deeply into yoga, spirituality, and living cleanly and lightly on the Earth. We got to chatting during a recent gathering and decided to keep in touch via Facebook. When I logged on yesterday, there was a Friend request from her.
From cryptic comments she'd made, I knew that her long-time partner has cancer. She'd made recent references to treatments that went well, and then not so well. I know that he is a young man, and because my partner was also a young man when he developed testicular cancer a decade or more ago, I assumed that that was the brand of C they were dealing with. And because all turned out well for my partner – and for Lance Armstrong, who famously battled that very same cancer — I assumed all would be well.
After she and I Friended each other I browsed her Wall. I saw her partner for the first time. The two of them together look like a glossy magazine ad for the best kind of life two beautiful people could ever live, probably at a base camp in Nepal. Radiating promise and hope and bliss and love, these two gorgeous souls smiled back at me from Zuckerberg's social network program, and made me smile right back. Because her photos are interesting I started flipping through them – she and her guy have traveled all over the world, I notice — and then I see that a friend of theirs has posted a photo of her boyfriend with the Comment, "This is [name]. He is battling brain cancer."
BRAIN CANCER. Stomach-punch heartsick held-breath ohmygod ARE YOU EFFING KIDDING ME, UNIVERSE?!! Is how my thoughts ran. This beautiful boy, this child of the planet, this lover of life, this shining light, has BRAIN cancer?!!!
All morning long my mind reeled. Here I am, so truly far away from the situation – I barely know her, and have never met him – and yet so gobsmacked by the horror of it. When my partner came home from morning services, I explained to him in choked sobs what I'd found out, then cried for an hour. Later, on my walk, I kept looking up at the sky, "Really, God? Really, Universe?"
I don't know how common this type of cancer is in 20-somethings. I lost another friend to brain cancer a few years ago; she was in her 60s. I do know that people young and old, rich and poor, etc etc get cancer, fight cancer, live with cancer, die from cancer. I don't usually go around thinking about it because, well, that way lies madness. But I can't shake this. All day long, whenever I heard someone say something vaguely whiny, I thought, "Or you could have BRAIN cancer!" Watching a television show in which 40-year-old actresses were complaining about their wrinkles, I thought, "Or you could have BRAIN cancer."
Can your whole life and perspective be changed by someone else's battle with cancer? I'm not sure I even feel right about it, as though I'm "getting something" from someone else's – what? What are they even calling it? His illness? His struggle? His challenge? His journey? I want to take care how I characterize what they are experiencing: this is not mine to name or make assumptions about.
Worse, I suspect that my heightened sense of the preciousness and fragility of all things will fade. I mean, not that I particularly take life for granted on a daily basis – I am filled with gratitude – but right now, I'm way above baseline. I'm up there in self-actualization mode, where brushing my teeth this morning was a blessing and touching the cat's fur brought tears to my eyes, so awed was I by its softness. And I remember being elevated to this state of heightened appreciation and awareness a few years back when another friend's wife, in her early 30s, with two small children, was expected to die of Stage IV cervical cancer. As I held his hand through that, all the life-appreciation clichés came to pass: air smelled sharper, colors seemed richer, grass felt velvety. She survived that, they eventually divorced, and I went back to baseline appreciation mode.
Someone I don't even know has brain cancer, and I'm feeling more connected to life. But every day someone I don't even know has cancer. Every day I could be outraged to the point of transcendence. As I said, it doesn't seem right, "using" other people's struggles in this way. On the other hand, is this not what every person wants, for meaning to be made from their life and existence? Whenever something Bad happens, the survivors say, "I want something Good to come of this."
And so, a friend's life companion gets sick, and those ripples come lapping into my awareness and something feels changed. For one thing, I know I don't want to hear any complaining. From anyone, and least of all from myself. I may even say it out loud if I hear any whines today. I may look at the whiner and say, "Or you could have BRAIN cancer!" Someone does. You don't? Then shut up and live.